Introduction by the Vice-Chancellor and Principal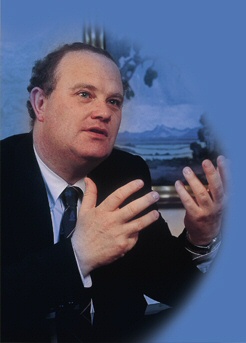 The University of Pretoria has consolidated and strengthened its position as one of the premier research universities in the country. For the last few years the University has been the leading producer of Department of Education accredited research publication units amongst all the institutions of higher education in South Africa. The University places a high premium on research, and considers the creation, application and transfer of knowledge as one of its major tasks. The institution has maintained its remarkable growth in publications in journals accredited by the Department of Education. Over the last five years there has been a 20 percent growth in the number of publication units. This growth in the University of Pretoria's research output has occurred at a time when research outputs at tertiary institutions in the country are under pressure. The number of research publications per academic has pleasingly also exhibited consistent growth, increasing from 0,5 publication units per academic in 1999 to 0,6 in 2004.

In addition to the quantity of research we are also driven by a quest for quality - and quality of research in particular. The need for quality stems from our mission of being locally relevant and internationally competitive. Local relevance manifests in the areas that have a direct impact on the well-being of the nation. The University responds to the needs of the country and the demands of the time by dynamically contributing to shaping the future. Our research spearheads this drive.

The quest for quality and academic excellence manifests itself in our cooperation with industry partners, science councils and foundations. We continually strive to improve and expand our interaction with industry. Industry in South Africa is increasingly recognising the innovation capacity that we have, leading to increasing mutually beneficial interaction across the industry/ academy interface. In 2004 the University was a research partner of choice for 114 companies within the THRIP (Technology and Human Resources for Industry Programme) context; THRIP matches the investment of industry in research at universities and the partnerships it engenders have many benefits in terms of our competitiveness and relevance. The projects address the specific research needs of the companies involved and cover a broad spectrum of intellectual endeavour. The involvement in them of nearly 400 graduate students bodes well for the University's inputs into the economy.

The University uses the Institute for Scientific Information (ISI) citation and publications index to benchmark its research performance nationally and internationally. The University of Pretoria has a ranking in five research fields: Plant and Animal Sciences, Agriculture, Engineering, Environment and Clinical Medicine. In the first three fields the University is the highest ranked South African institute and in the fourth it is ranked second. The University has now set its target on improving its international ranking in these fields and also being ranked in more fields.

The Mamelodi campus of Vista University was incorporated into the University of Pretoria in January 2004. The academic staff on the Mamelodi campus are now full-fledged members of the University's faculties and departments. As such their research initiatives and contributions will further enhance and strengthen the University's research thrust.

This publication highlights some of the research efforts and outputs of the University of Pretoria for 2004. The programmes funded by grants, contracts and donations encompass a broad spectrum of activities from cutting-edge genetic research to issues of economic growth and improvement in the quality of life of communities.

All the contributions have been made while dealing with the high demands of our increased student numbers, as well as those brought about by sectoral and institutional restructuring. The University and its researchers can justifiably be proud of these achievements. I am indebted to every member of staff and student who has contributed to this collective effort.


Inleiding deur die Visekanselier en Rektor
Die Universiteit van Pretoria het sy posisie as een van die vernaamste navorsingsuniversiteite in die land gekonsolideer en versterk. Oor die afgelope aantal jare het die Universiteit die toon onder Suid-Afrikaanse hoŽr onderwysinstellings aangegee deur die meeste Departement van Onderwys-geakkrediteerde navorsingspublikasie-eenhede te lewer. Die Universiteit plaas 'n hoŽ premie op navorsing en beskou die skepping, toepassing en oordrag van kennis as een van sy belangrikste take. Die instelling het sy merkwaardige groei in publikasies in tydskrifte wat deur die Departement van Onderwys geakkrediteer word, gehandhaaf. Oor die afgelope vyf jaar was daar 'n 20 persent groei in die aantal publikasie-eenhede. Hierdie groei in die Universiteit van Pretoria se navorsingsuitsette het plaasgevind terwyl navorsingsuitsette by tersiÍre instellings landwyd onder druk verkeer. Dit is verder verblydend dat die aantal navorsingspublikasies per akademikus ook volgehoue groei getoon en vermeerder het vanaf 0,5 publikasie-eenhede per akademikus in 1999 tot 0,6 in 2004.

Benewens die kwantiteit van navorsing is ons ook gedrewe deur 'n soeke na kwaliteit - en navorsingskwaliteit in die besonder. Die behoefte aan kwaliteit spruit uit ons missie om plaaslik relevant en internasionaal mededingend te wees. Plaaslike relevansie manifesteer op gebiede wat 'n direkte impak op die welsyn van die nasie het. Die Universiteit reageer op die land se behoeftes en die eise van die tyd deur dinamies by te dra tot toekomsskepping. Ons navorsing staan aan die spits hiervan.

Die soeke na kwaliteit en akademiese uitnemendheid manifesteer in ons samewerking met industrievennote, wetenskapsrade en -stigtings. Ons strewe voortdurend daarna om ons interaksie met die industrie te verbeter en uit te brei. Die industriŽle sektor in Suid-Afrika verleen toenemend erkenning aan ons wat lei tot 'n verhoogde wedersyds-voordelige interaksie oor die industrie/ akademie-koppelvlak heen. Binne die konteks van die Technology and Human Resources for Industry Programme (THRIP) was die Universiteit in 2004 'n voorkeur navorsingsvennoot vir 114 maatskappye; die THRIP-program maak 'n teenbelegging vir die industrie se investering in navorsing aan universiteite, terwyl die vennootskappe wat daaruit voortspruit, besonder voordelig is vir ons mededingendheid en relevansie. Die projekte spreek die spesifieke navorsingsbehoeftes van die betrokke maatskappye aan en dek 'n breŽ spektrum intellektuele aktiwiteite. Die betrokkenheid van nagenoeg 400 nagraadse studente hierby, hou ook veel goeds in vir die Universiteit se insette in die ekonomie.

Die Universiteit gebruik die vermelding- en publikasie-indeks van die Institute for Scientific Information (ISI) as uitgangspunt om te bepaal hoe sy navorsing nasionaal en internasionaal presteer. Die Universiteit van Pretoria beklee 'n plek op die ranglys in vyf navorsingvelde: Plant- en Dierkunde, Landbou, Ingenieurswese, Omgewingstudies en Kliniese Geneeskunde. In die eerste drie velde is die Universiteit die hoogste van alle Suid-Afrikaanse instellings en in die vierde veld, tweede gelys. Die Universiteit beoog nou om sy internasionale rangorde te verbeter en om in meer velde gelys te word.

Die Mamelodi-kampus van Vista Universiteit is in Januarie 2004 by die Universiteit van Pretoria geÔnkorporeer. Die akademiese personeel van die Mamelodi-kampus is nou volwaardige lede van die Universiteit se fakulteite en departemente. As sodanig sal hulle navorsingsinisiatiewe en bydraes die Universiteit se navorsingspoging verder uitbou en versterk.

Hierdie publikasie plaas sommige van die Universiteit van Pretoria se navorsingspogings en -uitsette vir 2004 in die kollig. Die programme wat deur toekennings, kontrakte en skenkings befonds word, omvat 'n breŽ spektrum van aktiwiteite van gevorderde genetika-navorsing tot kwessies van ekonomiese groei en die verbetering van die lewenskwaliteit van gemeenskappe.

Al hierdie bydraes is gemaak te midde van die hoŽ eise wat gestel word deur groter studentegetalle, asook deur sektorale en institusionele herstrukturering. Die Universiteit en sy navorsers kan met reg trots wees op hierdie prestasies. Ek is dank verskuldig aan elke personeellid en student wat 'n bydrae gelewer het tot hierdie gesamentlike poging.